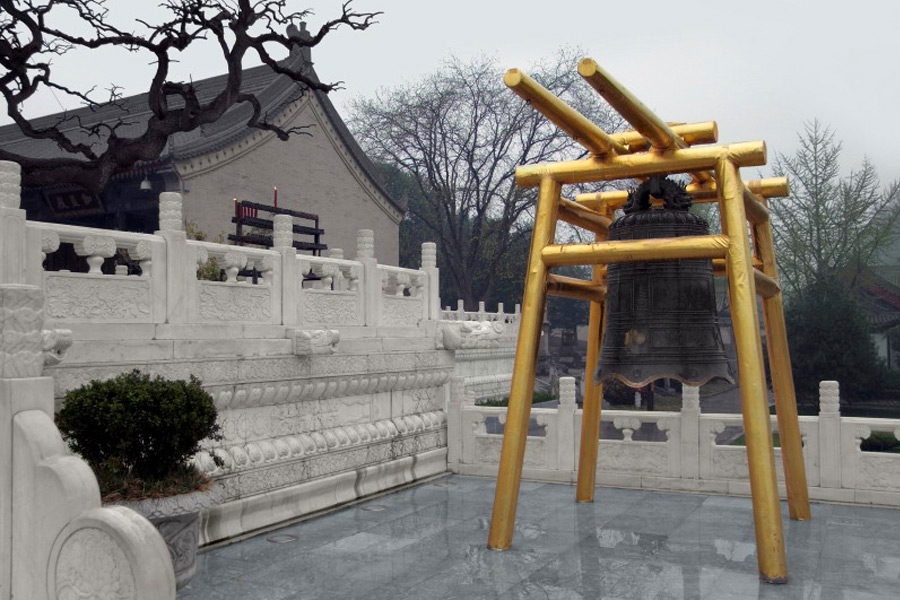 Xian City,  located in central-northwest China, records the great changes of the country just like a living history book. Called Chang'an (meaning the eternal city) in ancient times, it is one of the birthplaces of the ancient Chinese civilization in the Yellow River Basin area. As the eastern terminal of the Silk Road and the site of the famous Terracotta Warriors of the Qin Dynasty, the city has won a reputation all over the world. More than 3,000 years of history including over 1,100 years as the capital city of ancient dynasties, have endowed the city with an amazing historical heritage. Visitors marvel at the numerous historical sites and cultural relics in and around the city.
It is no exaggeration that Xian is the first choice if you are willing to find the longest history of China. This region is one of the vital birthplaces of the profound Chinese civilization. Benefiting from the fertile land and comfortable climate in ancient time, the rulers of 13 dynasties have set up their capitals here successively. Thus, Xian is one of the cities which preserve a wealth of historical heritages.
Shaanxi Cuisine, also known as Qin Cuisine, is the representative culinary achievement in the northwest China. In comparison to other Chinese cuisines, it is outstanding in three aspects. Firstly, due to Shaanxi's geographical location in the center of China, various kinds of materials deriving from both north and south China are adopted. Second is the special cooking skills of the local chefs, including Tun (deep-fry), Qiang (fry quickly in hot oil, then cook with sauce and water), Chao (stir-fry), Zheng (cook by use of steam), Dun (braise) and so on. Finally is its frequently use of salt, vinegar, capsicum and garlic, making the savory flavor of sour, spicy and fragrant.
One of the great delights of Xian is the way in which our ancient culture blends with the new in order to give the visitor a memorable experience of life in the city both as it was long ago and as it is today.
A good place to start your exploration is the Bell Tower as it stands in the historical center of the city and is adjacent to the flourishing modern commercial district. In the evening both the Bell Tower and Drum Tower are illuminated and provide a striking setting for the myriad of traditional Chinese restaurants and bright modern shopping malls where with a riot of color and movement the neon lights together with the street lighting present a veritable magical picture. As the bell tolls in the Bell Tower you can imagine yourself standing in the city as it was centuries ago.
As you stroll on the Bell & Drum Tower Square you will encounter many fellow pedestrians, who like you will be enjoying the spectacle of light and color against the dark blue dome of the night sky. Pass through the gate of the Drum Tower and the appetizing aroma of food will tempt your senses. Here you will findMuslim Snack Street a location famous for its many and varied restaurants, each with its own specialty dishes. Here you will be sure to find something that will appeal to your taste buds from the many novel and captivating dishes on offer.
Once your appetite has been satisfied you may wish to find a place to relax with a drink and if it is a quiet and romantic setting you desire, then wander along Defu Lane. Along this lane there are over twenty bars, cafes and teahouses. Each has a distinct style and an intriguing name such as Roman Holiday, Blue Heart, Captain, Old Tree, etc. An archway signifies the entrance to the lane and can be found on Fen Xiang, Nan Dajie. For a dozen of Carlsberg, Heineken, Budweiser or local Tsingtao beer may cost about 150 to 300 Yuan.
If you wish to go to a movie, A Pang Gong Cinema is close to the Drum Tower at No. 61 Zhubashi Jie. In addition there is another cinema at No.323 Dong Dajie. This is Northwest Film City and is some 500 meters to the east of the Bell Tower. Cinema tickets in Xian are inexpensive. Generally speaking, it will cost you between 20 and 30 Yuan to see a film. It is a great pity that films are seldom shown in English and are dubbed into Chinese. Never the less, if you are interested in improving your command of Chinese, what better way can there be to learn more of our language!
If on the other hand, you would like to enjoy some hot music and dance, your destination of first choice will be 1+1 Disco Bar here you are guaranteed unlimited fun and entertainment. About a kilometer from the Bell Tower at No 285 Dong Dajie,
the bar is decorated in a trendy style with a hint of 'heavy metal', which is rare in similar bars in Xian. The lighting and acoustics at the 1+1 Disco Bar are up to top class international standards and the venue offers a variety of shows as well as the opportunity to dance and hang out with your friends.
In Xian many working people and students alike enjoy going to KTV in their spare time to sing along with their friends. Not only is this a popular recreation in Xian but also in most other large cities in the country. Real Love is one of the best-known and most popular luxury KTV in Xian. Situated in Nan Erhuan Lu (South 2nd Ring Road), it is opposite the Province Library. Another venue where young people like to party is the Xialudi KTV. This is on the 4th Floor of No. 23 Yanta Bei Lu.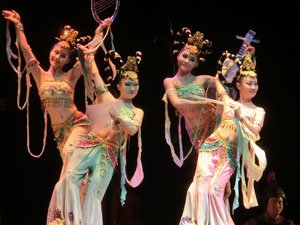 If you want to enjoy a more traditional Chinese evening, then the Tang Dynasty Dinner Show at the Tang Dynasty Palace or Shanxi Song and Dance Theater is a must. The Tang Dynasty is regarded as the most progressive and prosperous era in the days of Imperial China and its music and dance symbolize the glory and splendor of Chinese civilization. The Tang Dynasty Theatre Restaurant is located at No. 75 Chang'an Lu and an evening here is sure to be a memorable highlight of your tour. At each performance there are over 100 artists who entertain with a colorful spectacle of dance and music. Here you will enjoy music played on ancient Chinese instruments such as the Pi Pa, a hand plucked string instrument, the Rang, Gu Zheng, Erhu, Yanquin, Dizi, Sheng, Pai Xiao, 24 tone Bronze bell chimes,
Suo Na and a group of percussion instruments. Do not let these names daunt you, you are sure to enjoy their rich and varied sounds and the wonderful music they provide. The musicians also play the more easily recognized western style instruments, of course. To complete your Tang Dynasty experience, don't forget to enjoy a Dumpling Dinner!
Finally, another place deserving of some of your time is the North Square of the Big Wild Goose Pagoda. Covering an area of some 110,000 square meters and with an investment cost of 500 million Yuan, this is the largest music fountain square in Asia. The large-scale musical fountain is quite amazing. Here also you can see eight groups of magnificent sculptures and forty delightfully landscaped areas. This is not only one of the most impressive squares in China but is also becoming an important national monument to Tang Culture.
Xian weather is mild with four distinct seasons – a warm but variable spring, a torrid and wet summer, a cool and rainy autumn and a dry and cold winter. The annual average temperature is 13.5

C (56.3

F). The city has a moderate rainfall rate caused by the frequent summer storms and a succession of overcast and rainy days in autumn.
March to May is usually warm and pleasant and is the best time of the year to pay a visit. Early autumn running through September and October is also a good time for a visit.
| | |
| --- | --- |
|  Cost of Living | |
| Item | Cost (in RMB) |
| Milk (regular), 1 liter | 4 |
| Loaf of fresh bread | 7 |
| Eggs (12) | 8 |
| Fresh cheese (1kg) | 78 |
| Chicken breasts (boneless, skinless), (1kg) | 20 |
| Water (1.5 liter bottle) | 6 |
| Bottle of wine (mid-range) | 50 |
| | |
| --- | --- |
| Item | Cost (in RMB) |
| Bus ticket | 1 |
| Monthly bus pass | 100 |
| Taxi (5km within center) | 15 |
| Second-hand bicycle | 50-100 |
| Jeans | 120 |
| Casual shirt | 80 |
| | |
| --- | --- |
| | |
| Option | Cost (in RMB) |
| Table tennis by the city wall | Free |
| Gym, Monthly Fee for 1 adult | 50 |
| Go-karting (1 session) | 60 |
| Cinema (English, International Release), 1 Seat | 60 |
| Swimming (1 session) | 30 |